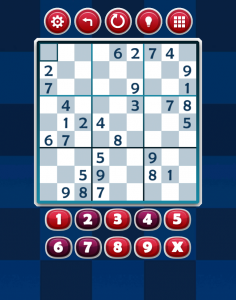 Download it for free on Google Play Market: https://play.google.com/store/apps/details?id=com.amaxgames.sudoku
Sudoku is a puzzle game. Objective is to fill a partially filled 9×9 sudoku grid with digits so that each column, row & block contains all digits from 1 to 9.
With 4 difficulty levels, intuitive interface, and all the functions right at your fingertips, this Sudoku app is sure to be your favorite. Interrupted? Exit Sudoku, and the puzzle is saved exactly as you see it!
Features:
* 1000+ levels (easy, medium, hard, very hard)
* Auto-save
* Undo
* Supports: mouse, touch screen & keyboard.
How to play: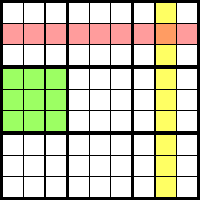 Sudoku is played over a 9×9 grid, divided to 3×3 sub grids called "regions" (green color).
Sudoku begins with some of the grid cells already filled with numbers that can not be changed.
The object of Sudoku is to fill the other empty cells with numbers between 1 and 9 (1 number only in each cell) according the following rules:
1. Number can appear only once on each row (red color)
2. Number can appear only once on each column (yellow color)
3. Number can appear only once on each region (green color)